Making events count - top ten tips on promotional products
Making events count – top ten tips on promotional products
Exhibiting at the right conference, trade show, or event can be a great way to engage with potential customers and raise the profile of your business. But it can be an expensive exercise, so you'll want to get the most out of the investment.

To stand out from the crowd, your printed materials and promotional products need to grab people's attention, so it's really important to plan how you are going to create that visual impact. Not only that, you want people to remember your brand, which is why carefully selected promotional giveaways can be a powerful marketing tool for your business.

With the enormous choice of promotional items available, it can be difficult to know where to start. That's why we work closely with businesses to understand your customers, and recommend products which fit with your messaging. It's possible to print your logo on all sorts of novel items, and while you might want to create an initial 'wow factor' with something quirky, it's the useful items which really stand the test of time and act as a regular reminder about your brand.

To help get the ball rolling, we have put together our top tips on popular event products and giveaways that will get you noticed in 2018.
1. Banners and table cloths: Eye catching banners are an event essential. They can immediately transform the space to make it your own, and deliver key messages about your business. Keep wording to a minimum and focus on consistent branding and striking images which portray your brand. Top it off with a smart table cloth printed with your logo, and the stage is set.
2. Branded clothing: It might not be right for every business, but a smart branded polo or t shirt can help deliver a consistent look on your stand. It makes it easy for people to identify who to talk to, and it means you carry your branding around with you, even when you nip for a break!

3. Pens: Yes, they are everywhere at events, but there is a good reason for that – people use them! Research by the British Promotional Merchandise Association (BPMA), shows that pens are the most common branded items on people's desks, so pens pack a powerful punch when it comes to brand exposure. Try to go for the best quality you can within your budget to ensure durability, or think about something different, such as a fun highlighter set, or a pen with an integrated USB.
4. Notepads and stationery: A gorgeous notepad is a real magnet for stationery lovers. They are second to pens in the popularity stakes, according to the BPMA, so these are bound to be a winner. Go for something which complements your branding, has good quality paper and a smart finish. Note blocks and post it notes are a good alternative and make an excellent goody bag gift.
5. Mugs and drink wear: You've probably got at least one branded mug in your cupboard! Given how many times a mug gets used in its lifetime, that's a lot of logo exposure. As well as ceramic mugs, insulated travel mugs are really popular – so you are likely to get people stopping at your stand if you have these as giveaways.
6. Stress toys and fidget spinners: Branded stress balls have been around for a long time, but they come in all shapes and sizes these days and are still very popular. People tend to keep them for the office as they are irresistibly squeezy and surprisingly therapeutic! Fidget spinners are a fun alternative. These addictive little toys are likely to be a hit with people of all ages.
7. Edible items: Food is always a winner at trade shows. It's a long day for delegates and exhibitors, and the catering can be a bit limited. Tubs of sweets, mint cards and bars of chocolate are sweet treats that will put a smile of people's faces and give your brand a feelgood factor.
8. Trolley coins: Trolley coins are a really handy giveaway which mean you never have to worry about having a pound coin for the supermarket shop. A practical but useful gift, they attach to your car keys, meaning you'll get bags of exposure for your business.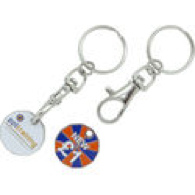 9. Tech gifts: Tech gadgets are a real crowd pleaser and you don't have to spend a fortune to offer something which is really valued. Ear phones, chargers and USB sticks will attract people to your stand and give your brand a modern, high-end feel.
10. Bags: It wouldn't be right to do a list about events without including the humble bag. They are not only handy on the day of the event, they give your brand repeated exposure, being reused time and time again. Tote, drawstring, rucksacks and laptop bags are just a few of the options available.
If you would like advice on selecting the right products to maximise your events in 2018, please get in touch by emailing sophie@hartlandpromotions.com or calling 07771 703247.